Summer is a great time to explore and Macaroni Kid has just the thing to help guide you on your adventures! We've compiled a handy list of playgrounds throughout the Huron Valley area – Milford, Highland, White Lake and Commerce. Mix up the routine, pick a new place to play and get out and have fun! Happy Summer!
Milford's Central Park, N. Main Street, Downtown Milford
Noteworthy: Bring tennis racquets and play on the courts on the upper level of the park, or cross the bridge and let the kids play in the creek behind the Huron River.
2. South Side Park, Huron Street, next to the Milford Fire Station
Noteworthy: This little park with a slide, swings and a remote control race track is packed with history: it's the site of Milford's 1836 Public Square.
3. Playground at South Martindale Beach (near Splash 'N Blast), Kensington Metropark, Milford/Brighton area
4. Playground at Possom Hollow, Kensington Metropark, Milford/Brighton area
5. Playground at West Boat Launch, Kensington Metropark, Milford/Brighton area
6. Dodge Park Playground, 180 E. Commerce Road, Commerce Township
7. Scarlet's Playground, Dodge Park, 180 E. Commerce Road, Commerce Township
Noteworthy: An all-inclusive playground featuring ramps and pathways for children of all abilities.
8. Hickory Glen Park Playground, 400 Glengary Road, Commerce
9. Clara Miller Park, 2550 Benstein Road, Wolverine Lake
Noteworthy: A Veterans' Memorial and new, all-inclusive playground equipment are in the works.
10. Playground at Richardson Community Center, 1485 Oakley Park Road, Commerce
11. Vetter Park, 685 Union Lake Road, White Lake
12. Hawley Community Park, 961 Dolane Boulevard (behind White Lake Township Hall off M-59).
13. Duck Lake Pines Park Playground, 999 Duck Lake Road, Highland
Noteworthy: Check out Jackson's Trail, which winds around the playground and ball fields.
14. Playground at Indian Springs Metropark, 5200 Indian Trail, White Lake
Noteworthy: In addition to this playground, steps away from the popular Spray 'N Play area, there is an Adventure Maze and Climbing Zone.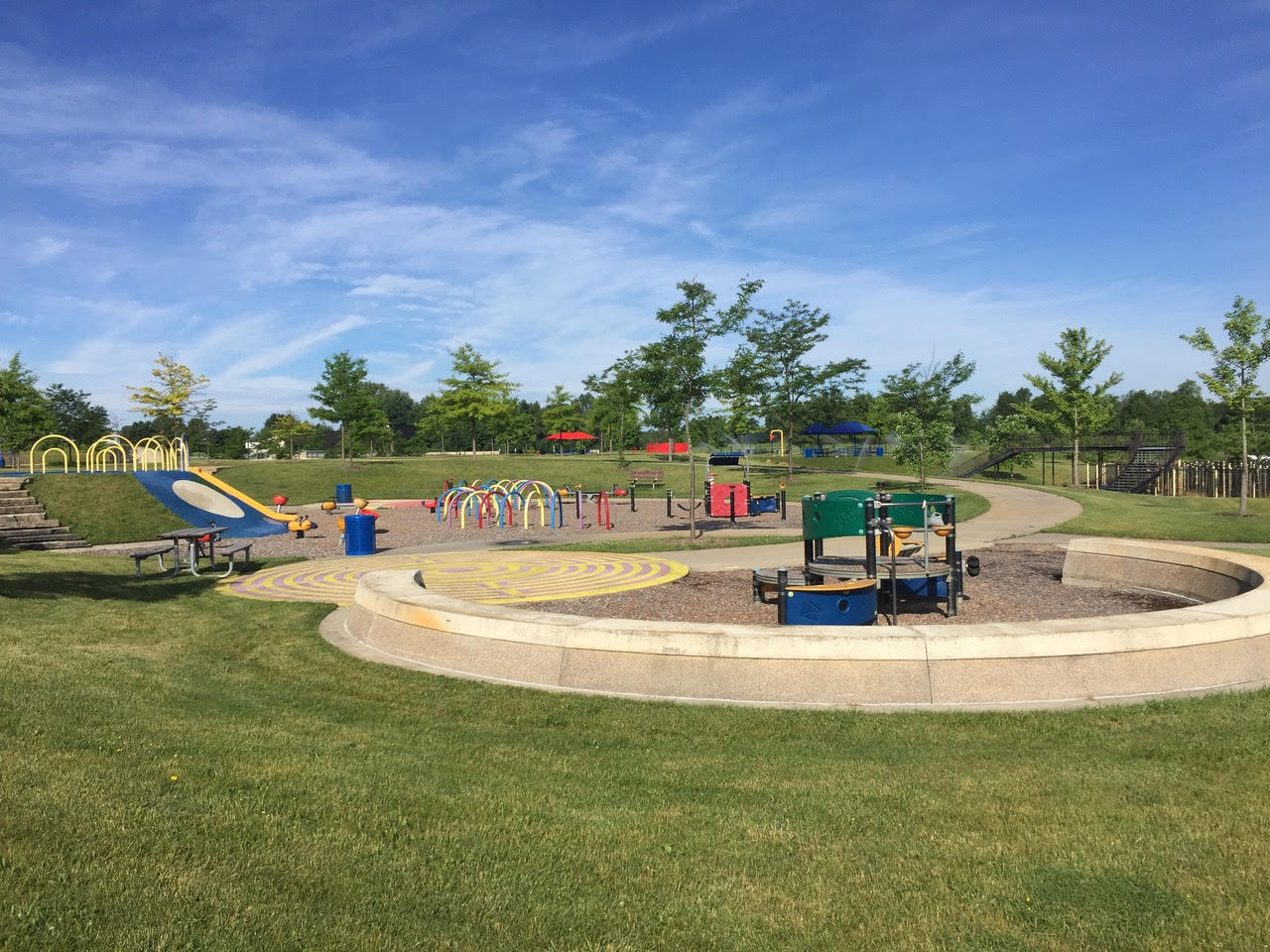 15. Hess-Hathaway Park, 825 S. Williams Lake Road, Waterford
Noteworthy: Across the parking lot from the gated playground is a farm with animals to visit.
Know of a playground we missed? Email us at sarahs@macaronikid.com and we'll gladly add it!
*Oakland County lifted the ban on outdoor playgrounds on 6/2/20